Managing the supply chain for medicines and related health commodities on islands; a case of Buvuma Islands
By Hadijah Nabulya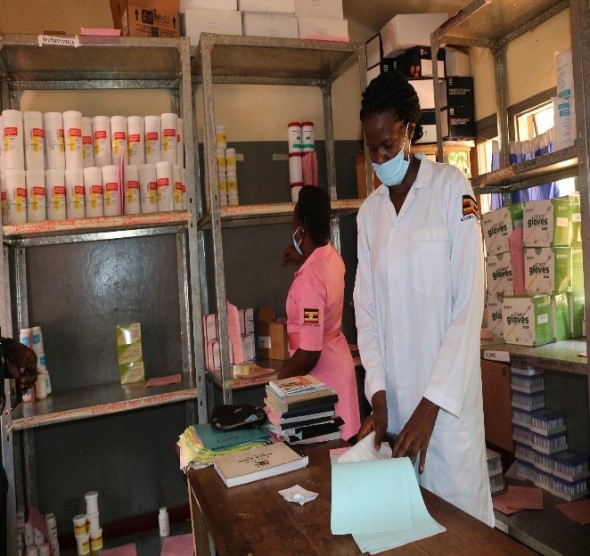 The Makerere University Walter Reed Project (MUWRP) PEPFAR program contributes towards the transportation of drugs and other commodities in hard to reach areas such as the Buvuma and Koome islands on Lake Victoria. MUWRP also supports the redistribution system which enables facilities with more drugs and commodities to share with those that are out of stock, to avoid shortages of supplies.  Buvuma district is enjoying this consistent supply of commodities despite its location on the island.
But how is this made possible?
Nathan Kyeyala, Senior Clinical Officer and District Medicine Management Supervisor in Buvuma district local government says that the district uses a supervision, performance assessment and recognition strategy (SPARS) tool to assess the dispensing and prescribing quality, stock and stores management, ordering and reporting quality. Dispensing quality is an indicator of patient care as it includes assessment of patient knowledge on medicines dispensed. The Medicine Management Supervisors (MMS) and Laboratory Supervisors conduct quarterly supervision looking at commodity flow in the facilities.
The process of ordering and reporting for drugs and other health related commodities.
In Buvuma district, most health facilities are public and make bimonthly commodities orders to the National Medical Stores (NMS) following an NMS order and delivery schedule.  Orders are submitted to NMS using a web-based client self-service portal (NMS+CSSP). The orders are made electronically by the health care workers from the different sections and approved by the health facility in-charge. Upon approval, National Medical Stores (NMS) receives the order and honours it through delivery to the district health stores. From the district health stores, drugs are delivered to respective health facilities.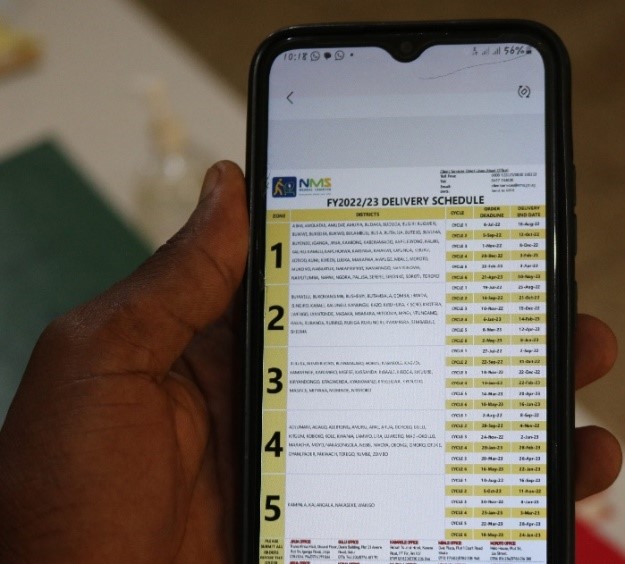 How do the drugs reach Buvuma Island?
The Buvuma ferry transports drugs and other health commodities to Buvuma district store which acts as the health delivery service point. NMS through the space holding company, a private company hired to do last mile delivery distributes the medicines and commodities to all facilities in the District. Buvuma HC IV orders for Anti-retroviral medicines, Tuberculosis medicines and HIV testing kits. Then Makerere University Walter Reed Project (MUWRP) supports with distribution of HIV related commodities to HC IIs that are not accredited.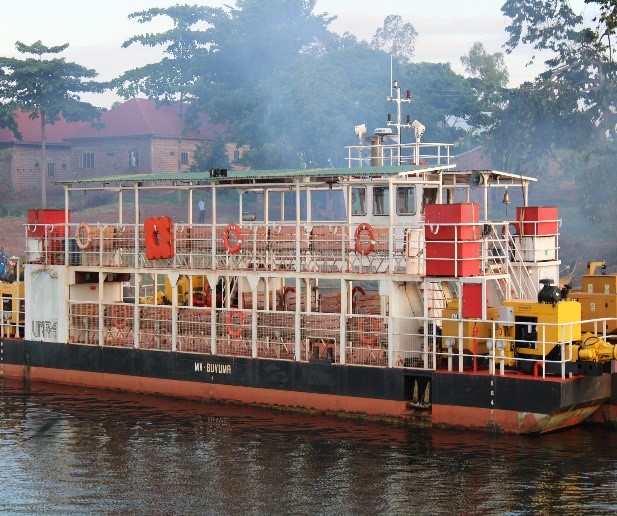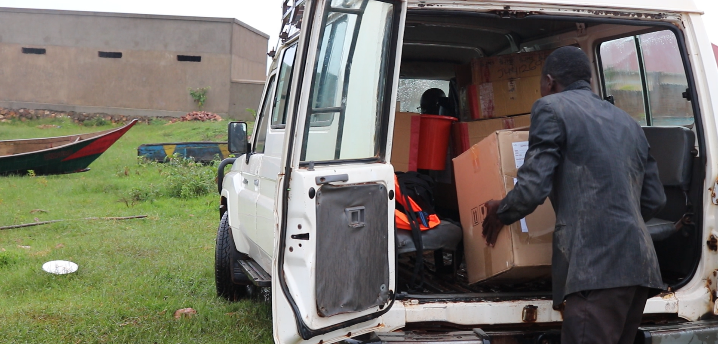 Processes undertaken to support efficient medicine orders and management
Utilization of stock cards for stock taking and management.
Inter and intra district redistribution with approval from the district medicine management supervisors to support continued stock availability.
Support for effective utilization and documentation in the medicine management data capture tools to include; medicine dispensing log, daily consumption registers for HIV testing kits, daily activity register for recording HIV tests done among others.
Support supervision that targets health care workers and engages clients for feedback on knowledge of medicine dispensed and information shared by Health workers to improve medicine administration and storage at home.
Available data that allows facility in-charges to know where insufficient drugs and excesses are.
The process is however not without any challenges but the MUWRP Medicines and Logistics Officer works with District Health Teams to come up with mitigation measures.
Challenges
Mitigation measures
*Some health facilities have specific ART days. This limits access to refills
*Advise clients to always report when there is a need but more importantly adhere to reporting days.
*Limited storage spaces for drugs received
*Identification of alternative safe storage spaces.
*Gaps in documenting medicine supply tools
*Support supervision where mentorships and onsite support is given
*Quantity issued different from quantity ordered. 
*Tracking using order fulfilment reports.
*Inter and intra district drug re-distribution
*Delayed deliveries from NMS
*Continuous engagement with NMS until delivery is done.