Makerere Univeristy Walter Reed Project (MUWRP) has donated a brand new double cabin pick-up to the UPDF
MUWRP and the US Department of Defense (DoD), as part of the health systems strengthening mandate under the Presidential Emergency for AIDS Relief (PEPFAR) program, have handed over a brand-new double cabin pick-up to the Uganda People's Defence Forces (UPDF). The vehicle will facilitate field activities including but not limited to; health education and community mobilization while implementing the comprehensive HIV prevention, care and treatment services among the men and women in uniform.
The event took place at Bombo Military Hospital, at the offices of the Directorate of HIV/AIDS services. The guests were welcomed by the Director of HIV and AIDS services Hon. Lt. Col. Evelyn Asiimwe and the ceremony was attended by other dignitaries including; a team from the Ministry of Health, Uganda AIDS Commission, and on zoom was Dr. Akao Juliet, the HIV/AIDS Program Manager, office of Security Cooperation, Department of Defense – US Embassy. Handing over the Van on behalf of MUWRP, Dr. Magala, MUWRP's PEPFAR Program Director said that, without a healthy and strong army, the security of the country cannot be guaranteed. He pledged MUWRP's continued support to the UPDF as a way of helping them develop capacities to adequately manage HIV/AIDS programming.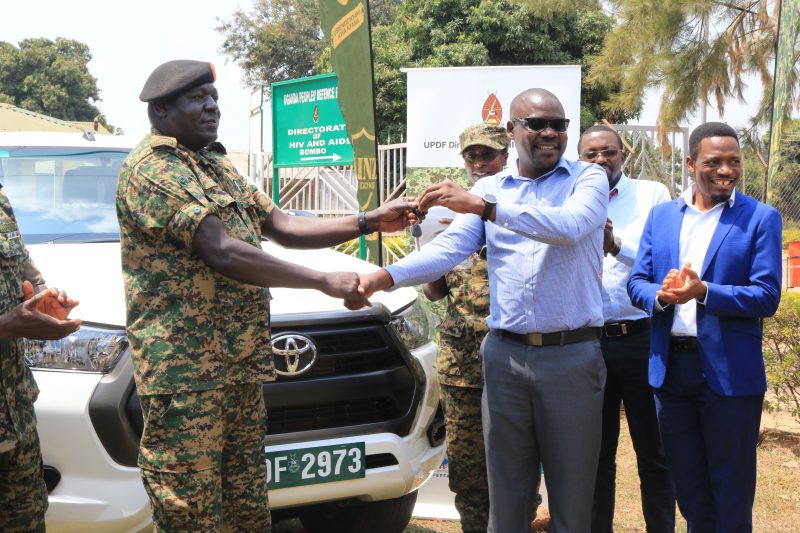 The ceremony was presided over by Brig. General Ocen Patrick who represented Gen. Musinguzi, the Director of the Chieftaincy of Medical Services. Gen. Ocen thanked MUWRP for their commitment to support the UPDF's Directorate of HIV/AIDS services and prayed that this warm collaboration continues to flourish.
At this same occasion the UPDF launched a new 5-year HIV and AIDS Strategic Plan – 2023/2024 to 2028/2029. The development of the strategic plan was also supported by MUWRP. In his remarks during the launch of the plan, Dr. Magala challenged the UPDF Directorate of HIV/AIDS service to take the next steps of putting in place a Monitoring and Evaluation plan that will track the proper implementation of the plan.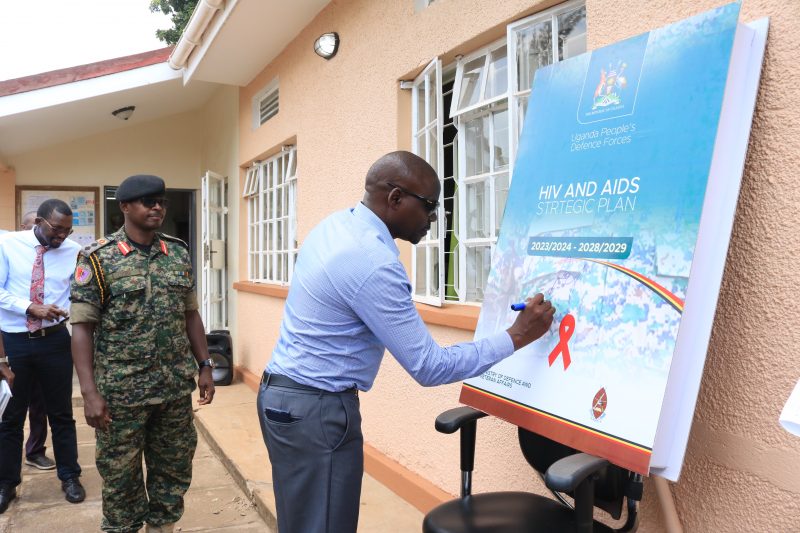 MUWRP's long-term partnership with the US Department of Defense (DoD) has not only developed the capacity of HIV and AIDS programming but has also conducted ground-breaking biomedical research and infectious diseases surveillance programs in Uganda.