MUWRP Hosts the New US WRAIR Commander, Col. Clinton K. Murray
By Stephen Mugamba & Jesca Nawatti
Makerere University Walter Reed Project (MUWRP) was privileged to host the new Commander of the Walter Reed Army Institute of Research (WRAIR), Colonel (Col.) Clinton K. Murray. Due to the current COVID-19 pandemic restrictions, the one hour meeting was held virtually on Thursday 11th March 2021, 2-3PM EAT The participants included: The US Department of Defense (US DoD) and WRAIR leadership in Uganda and included Maj. Woo Chung, Office of Security Cooperation (OSC ) and , Ms. Monica Millard, the WRAIR Country Director; Dr Estella Birabwa, the WRAIR PEPFAR Program Manager, Mr. Alfred Lutaaya, the WRAIR Strategic Information Specialist, MUWRP Heads of Department, and MUWRP Staff.
Dr Hannah Kibuuka, the Executive Director MUWRP, walked the Commander through a comprehensive presentation that included MUWRP's history, infrastructure, activities, and achievements, covering MUWRP's four program areas: the clinical research programme, the PEPFAR, the Emerging Infectious Diseases Program (EIDP) and the Joint Mobile Emerging Disease Intervention Clinical Capability (JMEDICC).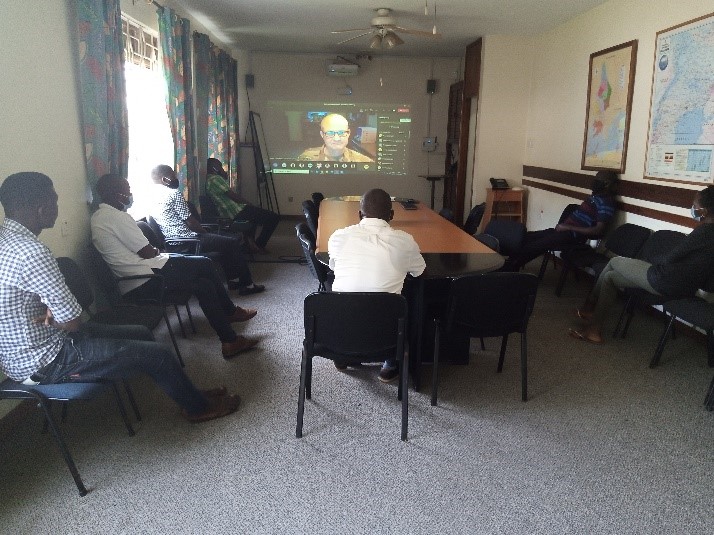 In response, Col. Clinton K. Murray appreciated the MUWRP team for the comprehensive and informative presentation. "I thank you for this very informative presentation and specifically for continuing to work during the hard COVID-19 period. I encourage everyone to continue staying safe from COVID-19 by protecting one another, as well as protecting the people that MUWRP supports and serves", said Col. Murray.
During the question and answer session, the commander pointed out WRAIR's commitment to strengthen research on emerging infectious diseases, and promised to support MUWRP within limits of WRAIR's evolving priorities. He expressed willingness to visit Uganda to see the works especially in hard to reach areas such as Koome islands, as soon as the COVID-19 threat further subsides.
MUWRP is one of the five international research sites established by the United States Military HIV Research Program (MHRP), a program centered at WRAIR in Silver Spring, Maryland USA.