MUWRP has delivered a Donation of PPE to Kiruddu, Mulago, Jinja and Gulu Referral Hospitals
By Jesca Nawatti- Community Outreach Officer
Makerere University Walter Reed Project (MUWRP) delivered a donation of Personal Protective Equipment (PPE) to Mulago and, Kiruddu National Referral Hospitals and Jinja and Gulu Referral Hospitals to support efforts to combat the prevailing COVID-19 Pandemic. The equipment was provided through the generous support of the American Government through the United States Department of Defense Oversees, Humanitarian Disaster and Civic Aid (OHDACA) Program, and the deliveries happened on 29th September 2020 for Kiruddu and Mulago, 30th September 2020 for Jjinja and 1st October 2020 for Gulu. MUWRP currently collaborates with these four (4) Referral Hospitals to conduct surveillance for Influenza and Influenza like illnesses in Uganda.
Leading the MUWRP team was Dr. Betty Mwesigwa, the Ag. Deputy Director, Prof. Denis Byarugaba, the lead investigator of the Emerging Infectious Diseases Program (EIDP) and Jude Thaddeus Ssensamba, the EIDP Program Manager. In her remarks, Dr. Mwesigwa noted MUWRP's long-term partnership and collaboration with Mulago, Kiruddu, Jinja and Gulu Referral Hospitals in emerging infectious diseases as the motivation for sourcing for this donation. She further noted that MUWRP would continue to work with the hospitals, the Ministry of Health, and other stakeholders in the quest to further understand, mitigate, and respond to Uganda's emerging and re-emerging Infectious Diseases.
At Mulago National Referral Hospital, the Executive Director Dr. Baterana Byarugaba thanked the American people for their generosity, and promised to make good use of the donated equipment. Dr. Baterana further noted the strong working relationship between MUWRP and Mulago Hospital. At Kiruddu National Referral Hospital, the Executive Director Dr. Charles Kabugo commented that the supplies were timely since the hospital has a surge in the number of new COVID-19 cases. He assured continued support to MUWRP research activities, and thanked the American People for their kind hearts, given that they have a higher burden of the malady.
In Gulu, the Gulu Referral Hospital Director, Dr. James Elima thanked MUWRP for having thought about them, and noted that their region had the highest burden of COVID-19 in Norther Uganda.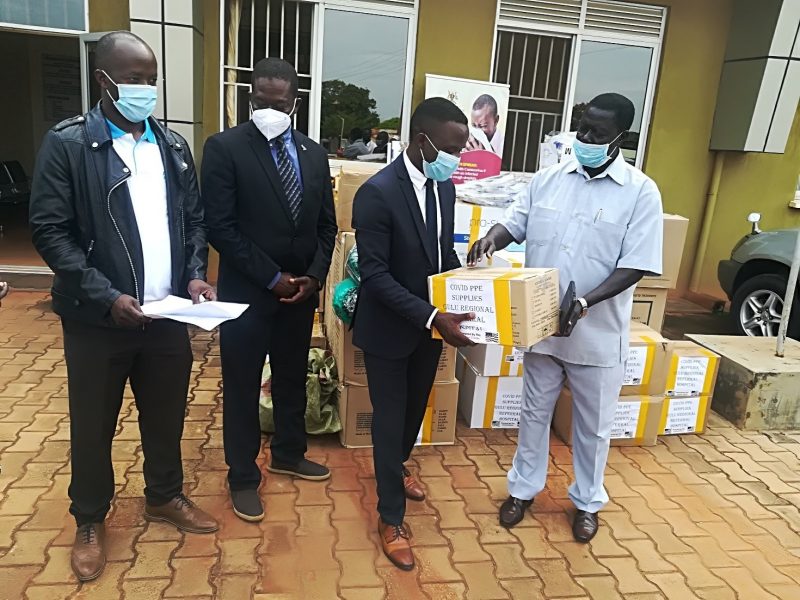 The donated equipment included among others sterile gloves, examination gloves, sanitizers, aprons, face masks, N95 masks, heavy duty gloves, and patient gowns, valued at about $20,000 for each hospital.
The COVID-19 pandemic remains a challenge in Uganda and has stretched the national health system. Such donations are key for ensuring that the most important resource in the health services mix continues to be protected as they offer their services. Beyond strengthening the collaboration with the hospitals, this donation activity availed many other partnership opportunities.